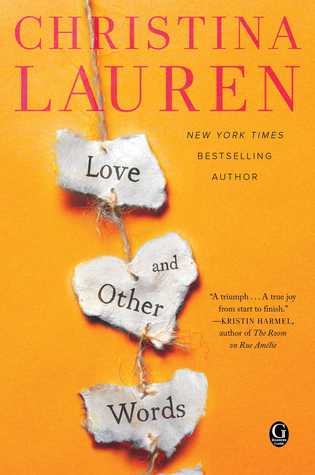 Image and blurb from Goodreads
Age Category/Genre: Adult Contemporary Romance
Publication Date: April 10th, 2018
Publisher: Gallery Books
Love, loss, friendship, and the betrayals of the past all collide in this first fiction novel from New York Times and #1 international bestselling author Christina Lauren (Autoboyography, Dating You / Hating You).
The story of the heart can never be unwritten.
Macy Sorensen is settling into an ambitious if emotionally tepid routine: work hard as a new pediatrics resident, plan her wedding to an older, financially secure man, keep her head down and heart tucked away.
But when she runs into Elliot Petropoulos—the first and only love of her life—the careful bubble she's constructed begins to dissolve. Once upon a time, Elliot was Macy's entire world—growing from her gangly bookish friend into the man who coaxed her heart open again after the loss of her mother...only to break it on the very night he declared his love for her.
Told in alternating timelines between Then and Now, teenage Elliot and Macy grow from friends to much more—spending weekends and lazy summers together in a house outside of San Francisco devouring books, sharing favorite words, and talking through their growing pains and triumphs. As adults, they have become strangers to one another until their chance reunion. Although their memories are obscured by the agony of what happened that night so many years ago, Elliot will come to understand the truth behind Macy's decade-long silence, and will have to overcome the past and himself to revive her faith in the possibility of an all-consuming love.
Buy Links: Amazon
4.5 "Eleven Years of Angst" Stars
Why is this book being marketed as WF when it's so clearly a romance. An awesome, slow burn, BFF to lovers, single POV Contemporary Romance? I don't get what's happening, but who cares because I really, really loved this book. I would've added another "really" (and probably the missing half star) had it not been for the big reveal. That was so bad that I spent a while contemplating retrieving the half star I already gave.
I realize this is a bad start to a review for a book I loved, but...
I absolutely LOVED 99% of this book, and I knew I'd probably love it from the beginning.
I could not have connected with the voice more, since it was told in first person present tense from the perspective of a character that was instantly likable. It didn't hurt that Macy's mother was Brazilian (though I caught some pretty evident Portuguese mistakes in the book. Just saying) and that I always get Grey's Anatomy's vibe when I see the word "resident".
Macy became a favorite quite fast. I loved her maturity (even when she was running away from the love of her life after running into him after 11 years) and her personality. But if I'm being completely honest, Elliot was the star of this story for me.
Elliot who loves to read and knows pretty words and wears glasses and listen to his best friend talk abouth periods without acting all grossed out. Elliot was perfection. He's the kind of friend I wished everyone had in their teens. He is the friend that becomes your person (another GA's reference that hit me in the feels). I wish he was my person, too.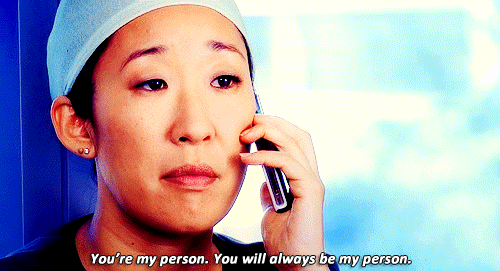 Throughout the entire thing I was madly in love with Elliot. And I was madly in love with narrative choice. I often dislike when books alternate between chapters in the present and past tense. It takes me out of the story and feels like too much backstory. Until it's done right. Here, it was done perfectly.
I can't imagine this story having the same impact if we didn't go back in the past and met Elliot when Macy did. If we didn't go with her every step of the way as she found in Elliot the best friend a person could ask for and the kind of love that can never, ever die.
I just have to put it out there: They're love was epic.
Proof of that is that after eleven years apart--eleven years with no contact whatsover--the moment they see each other, they know that's it. They know their love never died, and what Elliot did next was just... Damn it, boy, you were going hard after my heart.
All the angst involving Macy and Elliot reuniting and rediscovering their love was just perfection. So was watching them fall in love for the first time through the "Then" chapters. I also loved how they deal with their present relationships in a mature, no-cheating-involved way. How Macy's relationship with her father was so sweet and loving and healthy. How Elliot's family was loud and loving and welcoming. Just talking about all of that makes me want to reread the story.
But then, the big reveal about what tore Elliot and Macy apart eleven years ago comes toward the end. And BOOM. I feel like an air-leaking balloon. It's almost painful to think about how wrong that reveal was. How unjust to the love story and to the characters. It's actually so unbelievable that I'm trying to convince myself the authors/editors and everyone involved just overlooked the fact that they inserted a segment of a different book in this lovely story. It just doesn't fit THIS story at all.
I could understand the second part of the reveal, and I even thought there was a way to make that second part the only reveal needed (the only excuse needed) for those two to be apart for so long. But the first part needs to go, so I'm deleting it and twisting the reveal in my head so it doesn't spoil the perfection that was this book.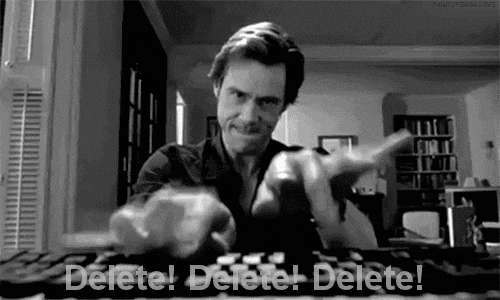 Despite that reveal, I still highly recommend this book, especially for fans of slow burn, angsty romance that hits you right in the feels!!!
*If you liked this review (or not), if you read the book (or not), come say hello and leave your comments bellow.